We were planning on running Goose Creek with Dave, Brian and myself, but couldn't find the shuttle road any too easily without wasting all our daylight, so we drove to the nearby Upper South Fork put in and hoped to be able to bushwhack down to the river to avoid the two mile hike in. Brian opted out as we were getting a somewhat late start for a run that we had minimal beta on and sunlight running out at 4:00. Davey and I geared up quickly and started hoofing it down a well maintained trail. Half a mile in the trail split and we debated directions and then headed upstream. Perhaps half a mile later there was a decent spot to bushwhack to the water and we went for it. It wasn't too bad but a little slippery with all the moss and rain. It was dumping rain like crazy. We put on the water quickly and took off trying to make good time. I forgot my camera but it was raining anyways. After a half mile of II/III we were faced with a large boulder garden. In the guidebook this run gets a IV-V rating, but we found it to be a bit different. The section we were in reminded me of a easy version of upper Mill Creek, lots of huge rock gardens with short pools in between. The guides differ on this mile, one says it's about 100fpm and the other says 170fpm. I thought it was more in the 170 range for a brief mile. It's either one big class V rapid or lots of IV+ with small pools in between. After five or six nice large drops the gorge opened up and we were off to paddle several miles of II-III with "good scenery". This run is absolutely beautiful and has a great class V gorge, but isn't really a IV-V run, just a II-III run with a short gorge. We put on the water around noon and got off about two o'clock, not bad at all for minimal beta. I'd do this run again but would prefer more water in it, we had an est 1200 on the SF. Shuttle directions are in H&S of course. The signs aren't joking about active slides on the road either.
Thankfully we had room to squeeze by.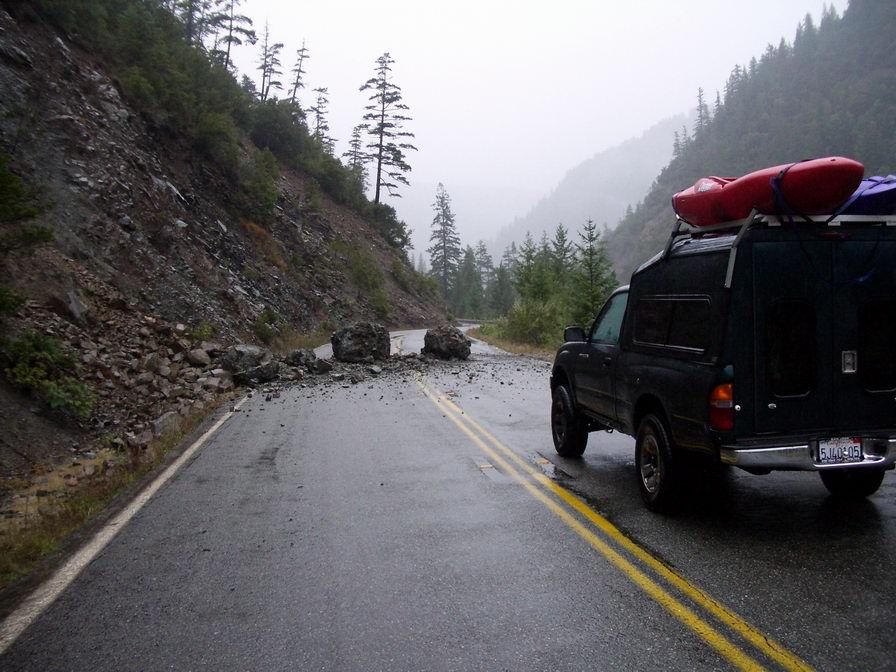 Higher flows, Take Two in 2008
With a late April snowstorm settling into Northern California, there was only one thing left to do, head back to the Smith River! With a crack of noon start from the Rogue Valley,
Dan Thurber
, Nate Barnard, Brian McQueen and myself headed off to kayak the Upper South Fork Smith. We encountered three inches of fresh snow on the shuttle, but by the time we dropped down to the trailhead it was back to rain.
Last time the boys dropped in they cut off the trail a bit early and ended with a steep rope assisted descent to the river. We pushed on another fifty to one hundred yards past the first game trail, and found the going to be easy. Once on the river (at no less than 4:00) we thought the flows were perfect. At higher flows I thought the run was good class IV with one V, the "Island Drop". The left channel is solid V while the right channel maintains a nice class IV creeking style.
There is a large lead in to this slightly sievy final crux.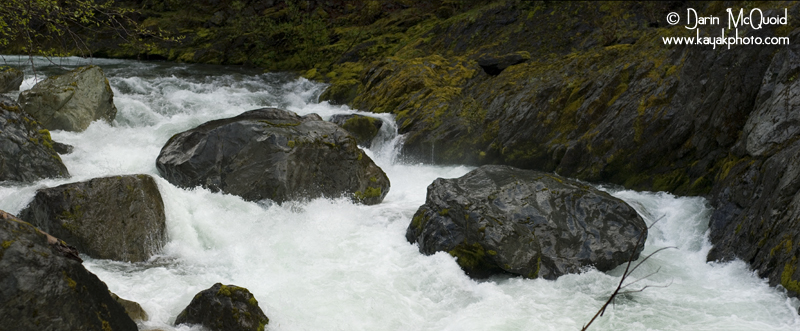 Dan firing up the right side of the Island Drop.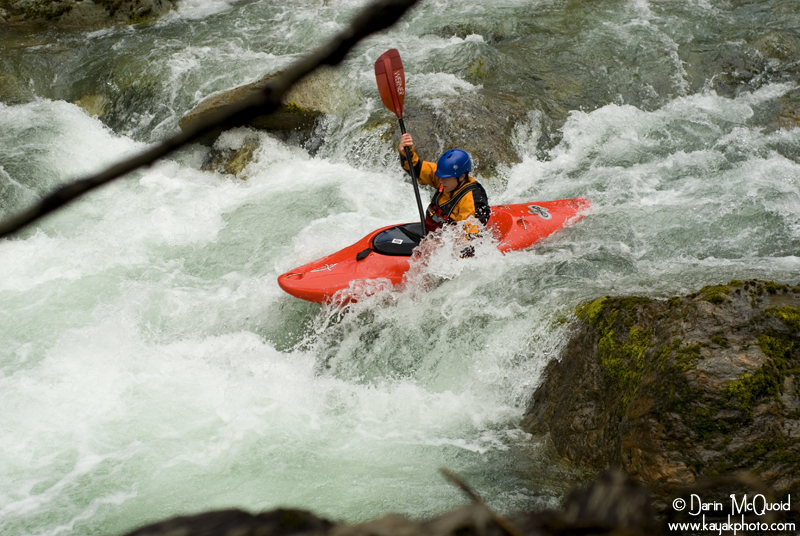 Nate enjoying the long boulder garden of the Island Drop.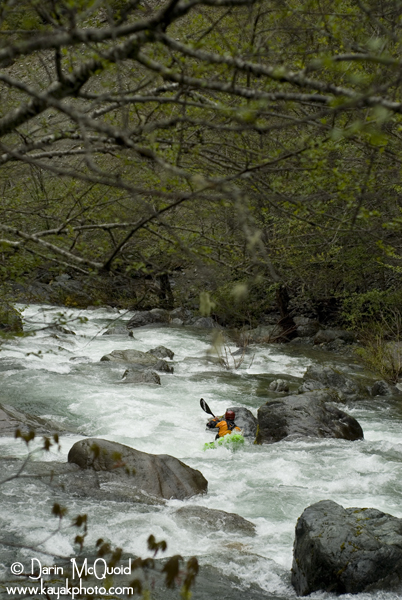 Typical horizon line on the Upper South Fork Smith.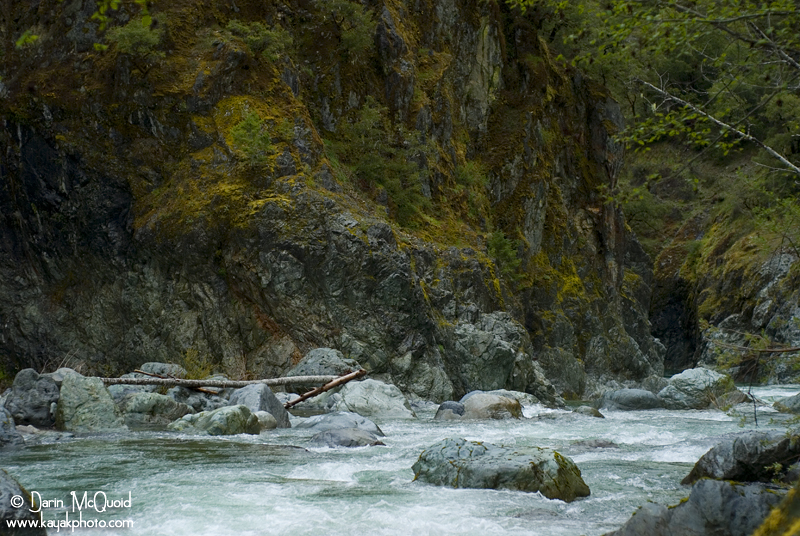 Nate and Dan tandem boof a sweet ledge.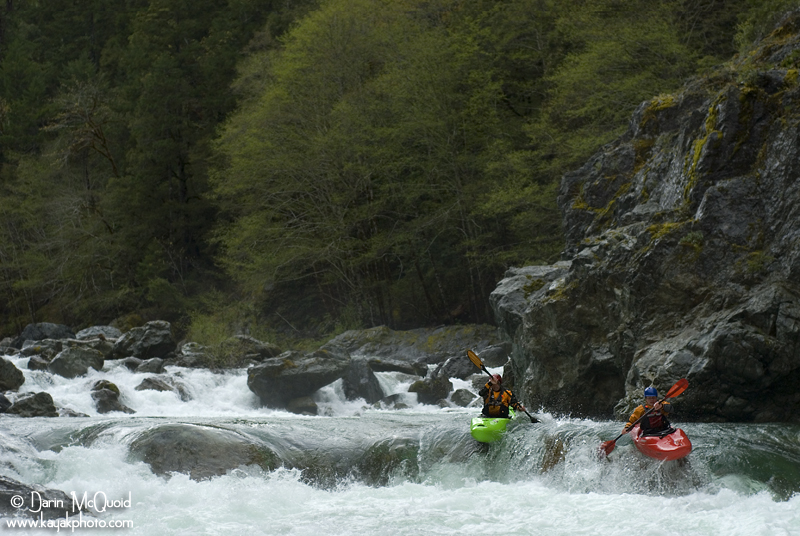 Dan in the grand final rapid, one of my favorites.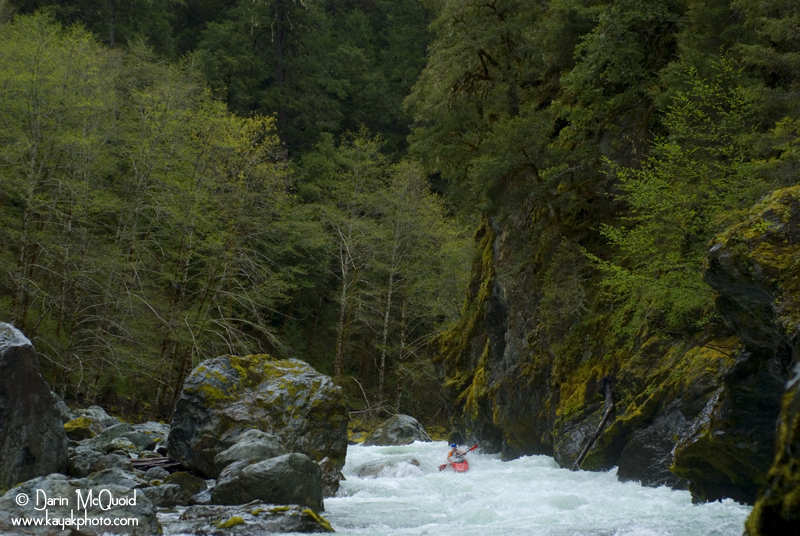 At high flows this one is stacked with holes up against the wall on river left, one of which Nate punches through.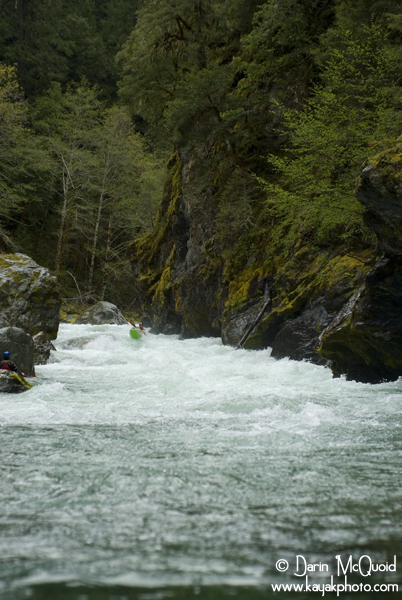 For round two we had flows of 2900 @ the
South Fork.
I thought the run was a great, superb scenery and a classic rapids at these flows. The only thing it's lacking is a longer section of rapids, typical to the Smith drainage.
Flows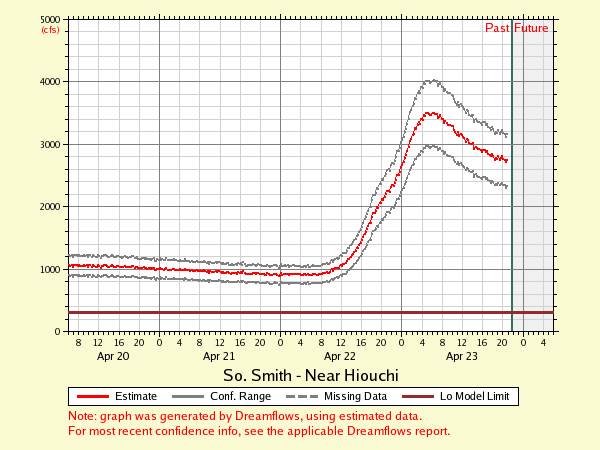 4.6 Miles
Put-in @ 900'
Take-Out @ 550'
Gradient Lost: 350'
[Google Earth]
Take out: From Highway 199 East make a right turn onto South Fork Road. After crossing over the South Fork Smith, stay left. After crossing the river three times, make a right onto G-O road and park on the other side of the bridge.
Put-In: Continue up G-O road until a left turn onto USFS 15N39 and follow to trailhead. Follow the trail to a T, make a right and continue up until you find easy access to the river. Parking lot: 41°39'15.17"N / 123°51'49.61"W
Take out on a trail just upstream of the last bridge used to cross over the South Fork Smith.