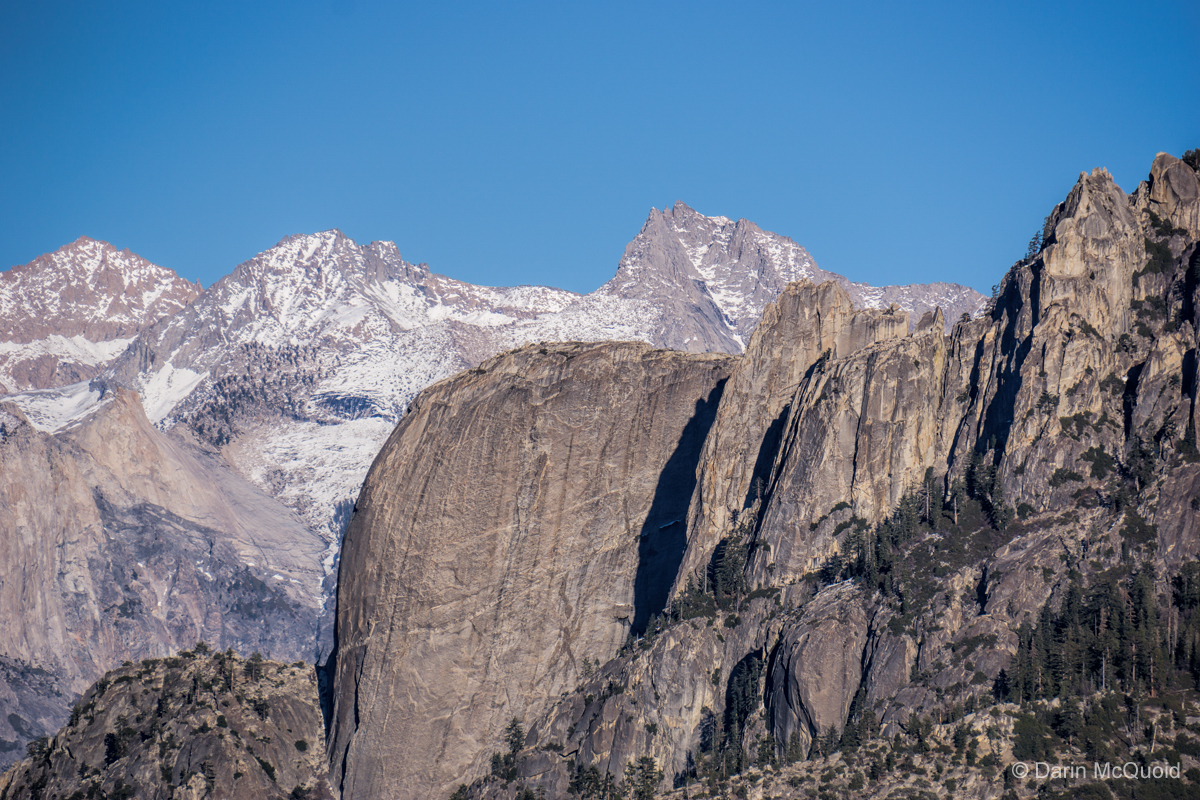 Castle Rock formation with Triple Divide Peak and Black Kaweah behind.
A return to the Upper Middle Fork of the Kaweah was inevitable. After all I'd said it was destined to become a classic.
I moved to Three Rivers on the Kaweah River in 2013. At the end of a record low winter snow pack in California one would expect a terrible season. Normally the best runs on the Kaweah have to be caught as the river drops below peak flow. With the minimal snow the river consistently sat around 500cfs on the gauge. I'd had a few months to think about ideal flows for this challenging section of river, and thought this would be it. It had some big holes at 600-700 and felt like it would have a friendlier character with less water. In general it's not the hardest actual whitewater in the state. It just doesn't have many, if any, portage options. While the gorge walls are not particularly high, they don't need to be. The polished granite walls are just high enough to make many sections of the canyon impossible to escape. Rapids link together in the gorge. It would be easy to lose a kayak if someone swam, and then, well I'm not sure what you'd do. If one does escape the low elevation Sierra brush creates an impassible wall. It's a unique paradigm. Previous trips been multi-day affairs, yet it's only a three mile run. It must be possible in one day.
We rise early to give ourselves the best chance of success, arriving at the trailhead just after five in the morning.
Tom Janney, Jim Janney, Jared Johnson and Jordy Searle ready their hiking setups.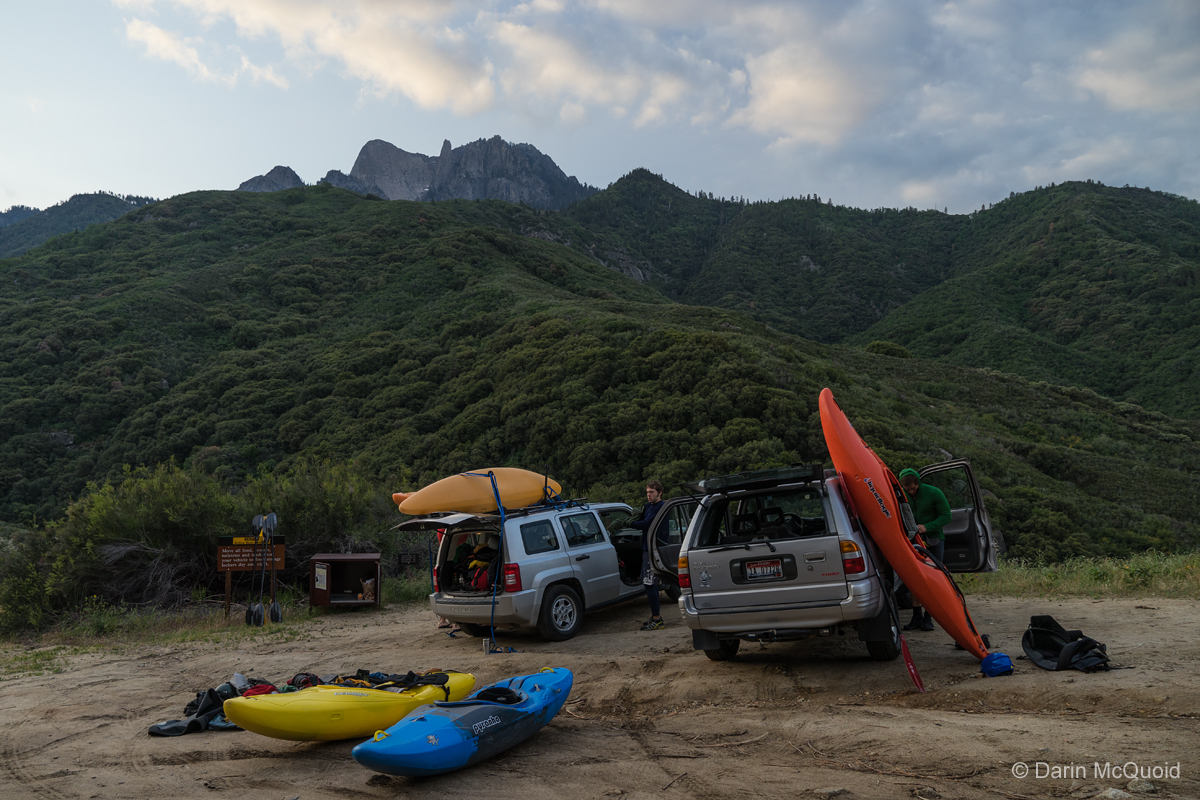 Jim Janney dwarfed by Moro Rock.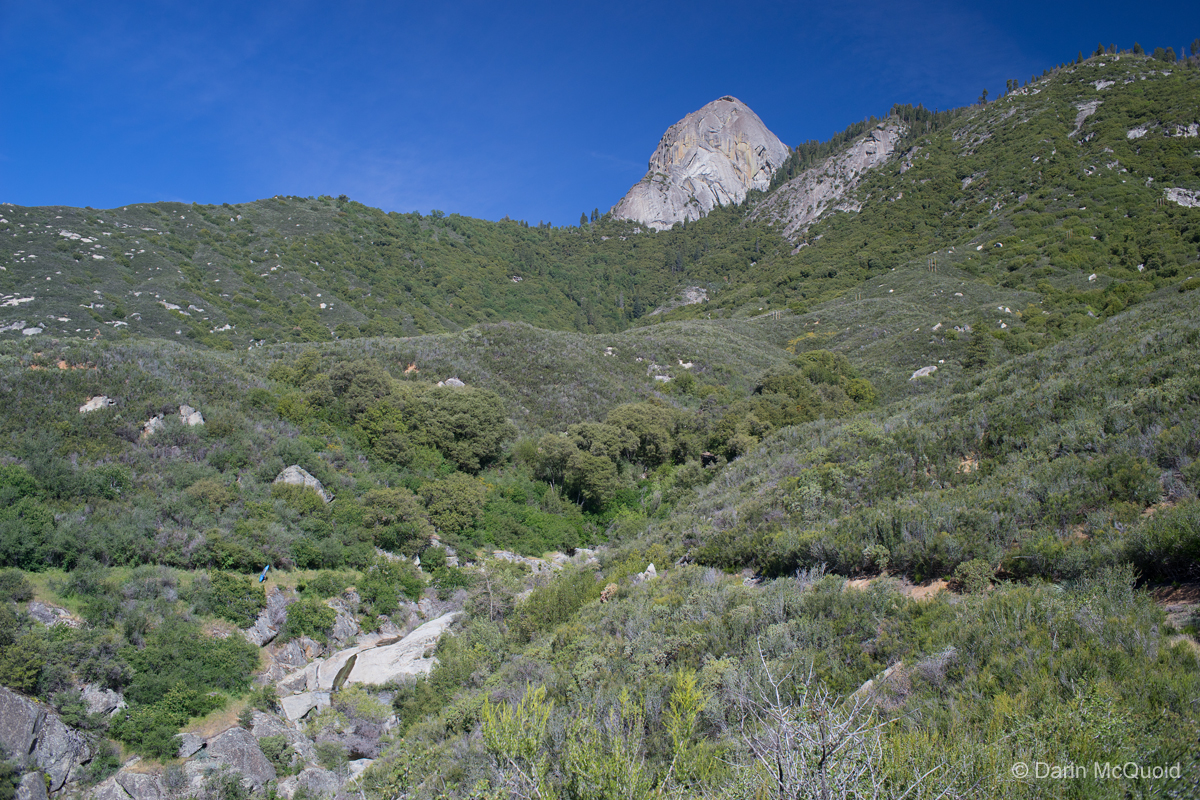 Tom Janney with the Castle Rock formation in the background.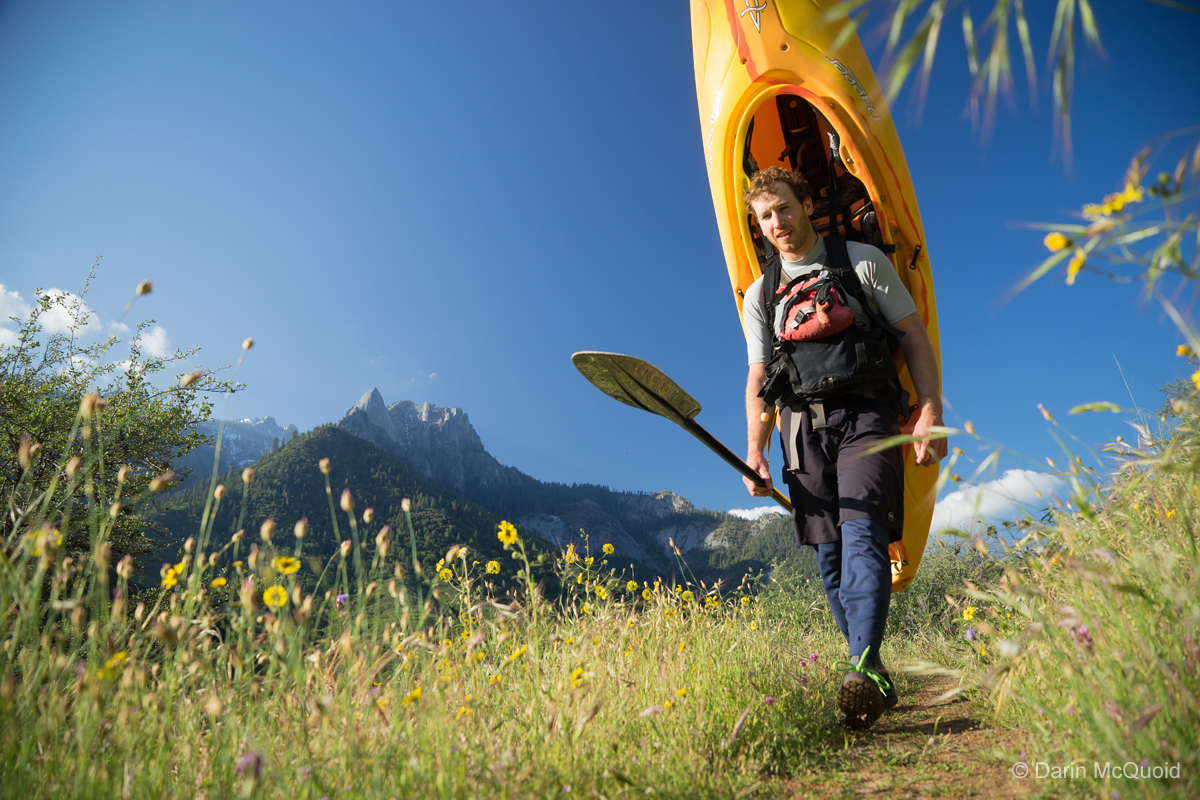 We bring the boats with us down a series of ledges at Panther Creek. It's dangerous. On later trips we start lowering boats down to the left of Panther Creek and found it takes about the same amount of time but less effort.
Passing to Jim Janney.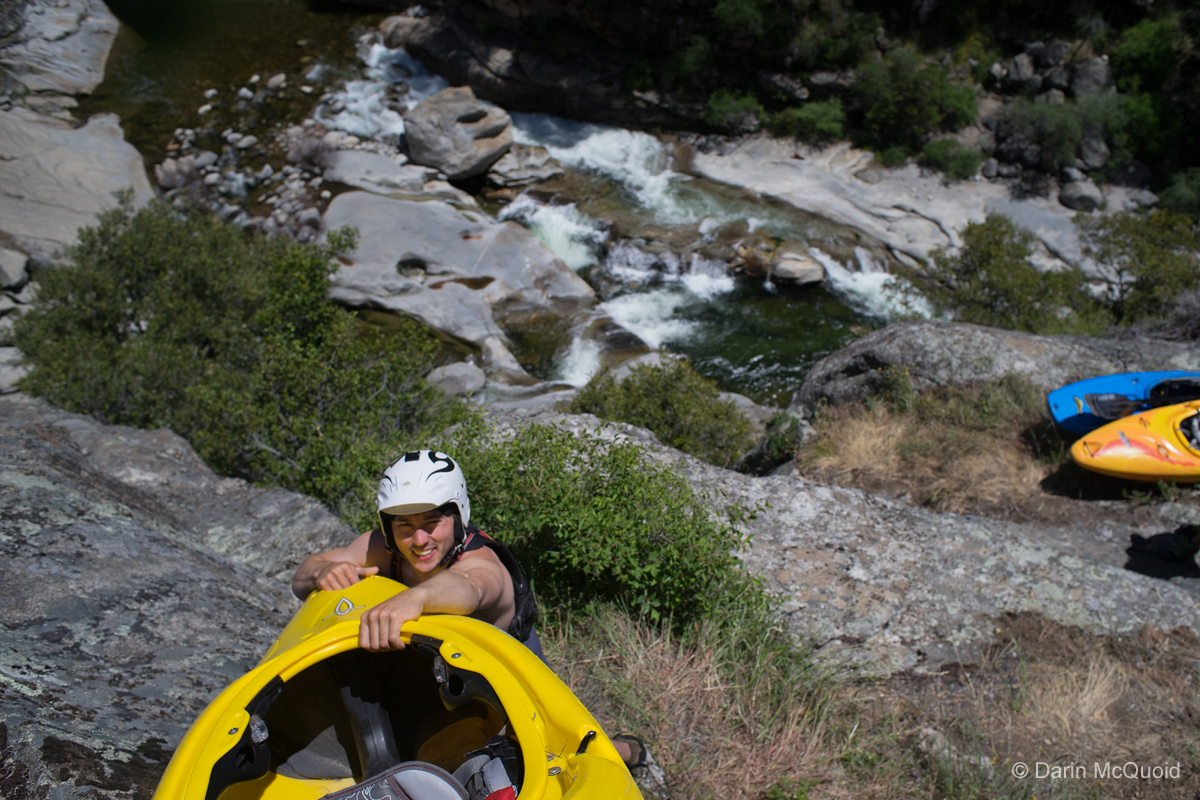 Once at river level there is no paddle in. Tom Janney in the first rapid.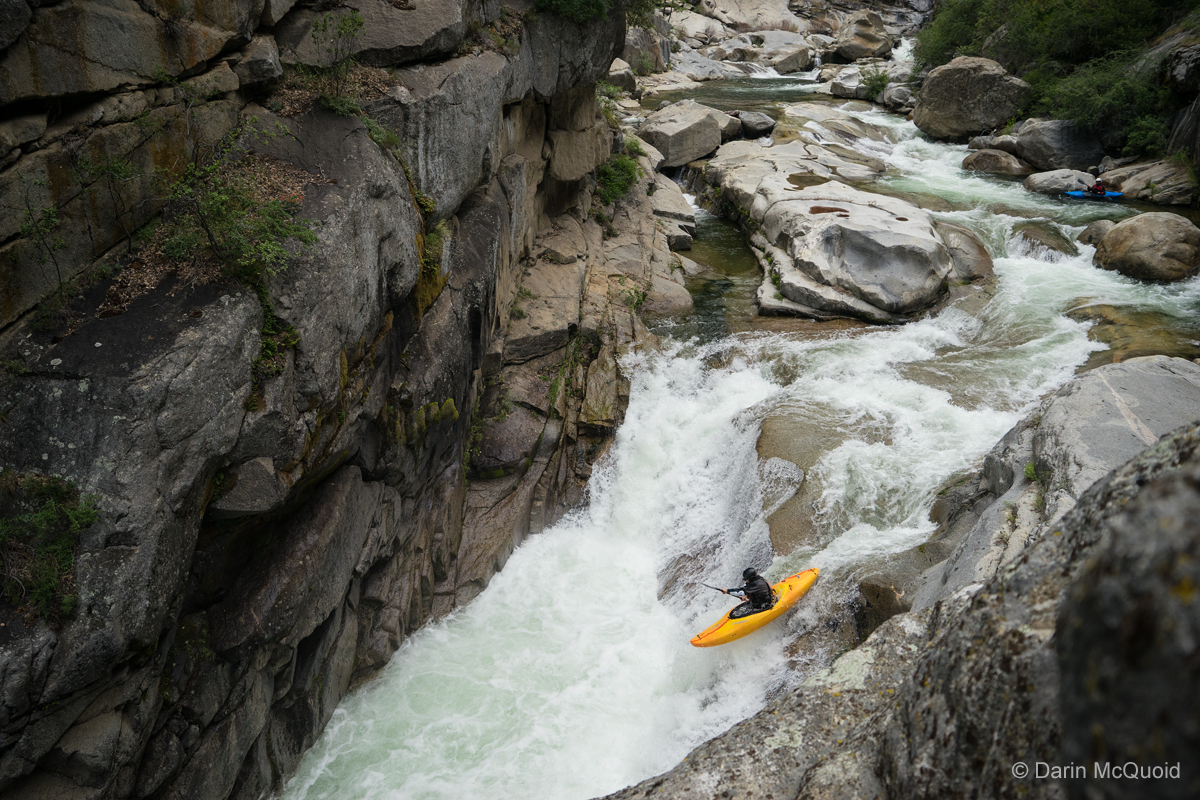 The Janney brothers in the second rapid of the day.

Five years later I didn't remember any portages in the top section, allowing us to make quick time boat scouting
down
to the first scout. Jordy Searle goes first.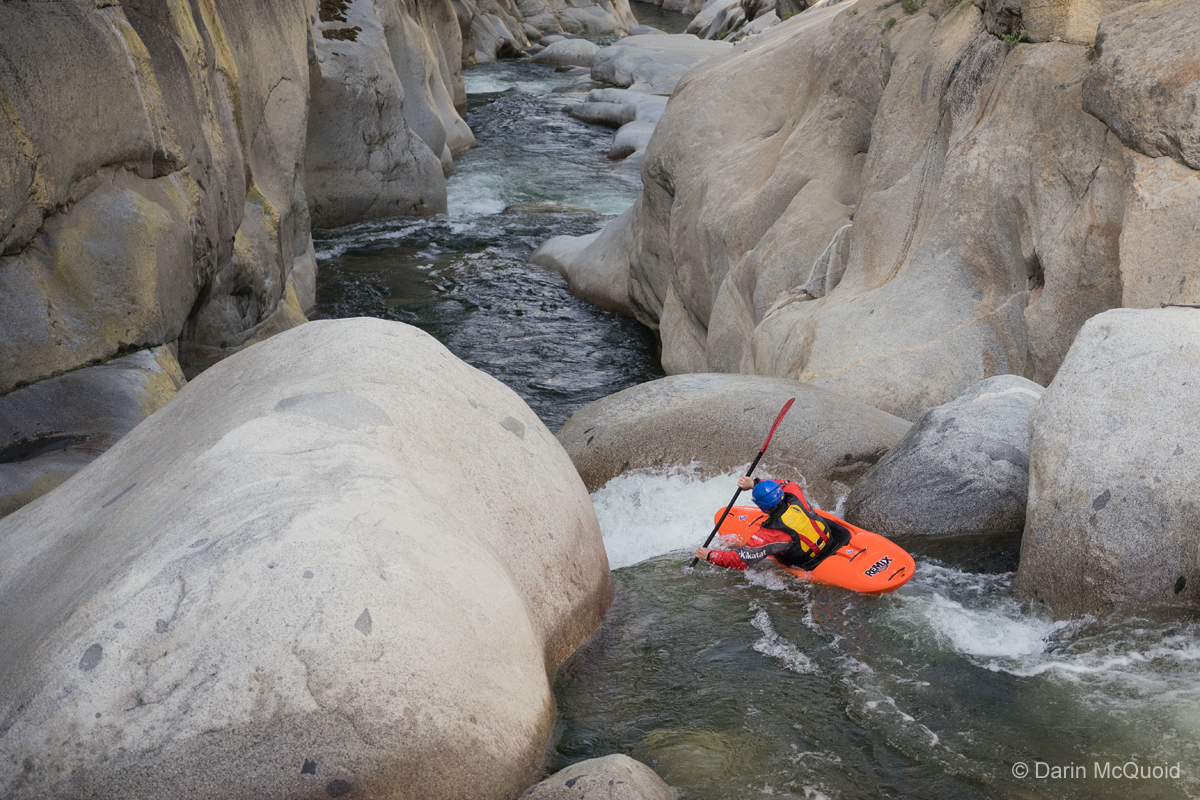 Jim Janney lines up a tricky boof.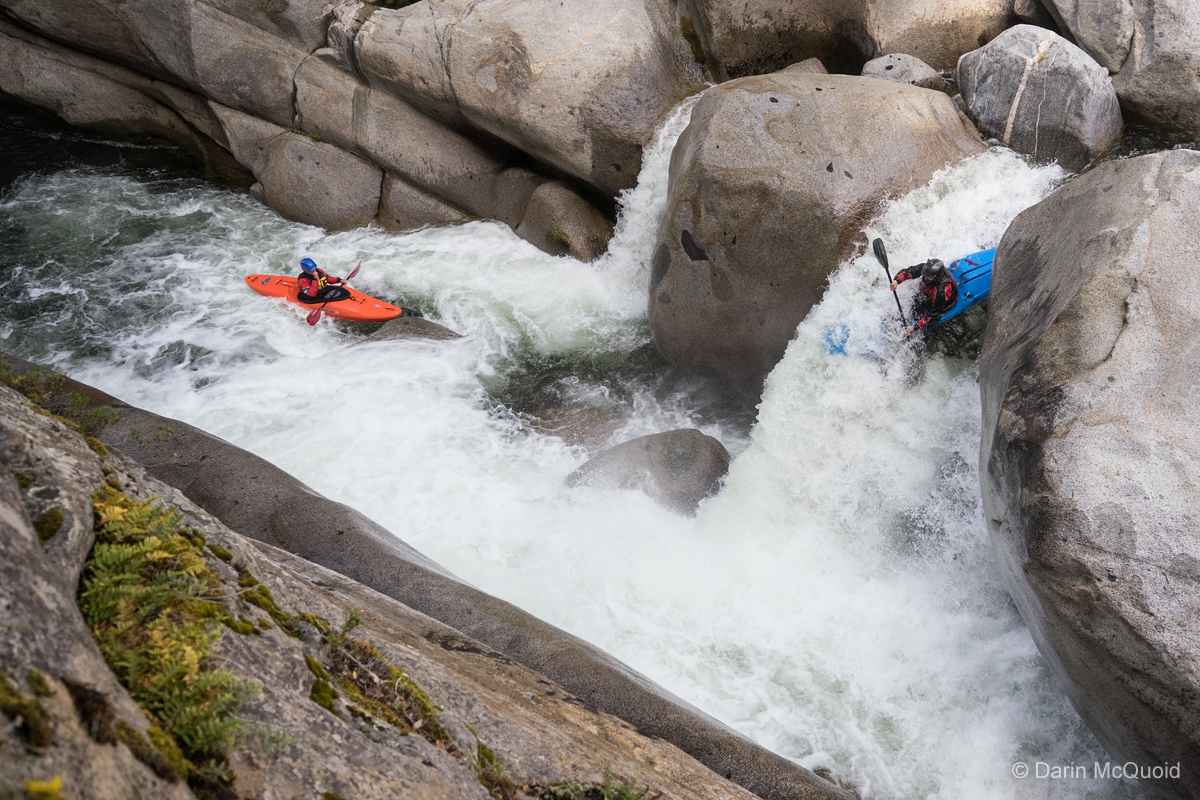 By 9:30 in the morning we're at Rusty's Rampage. We waste no time and go in pairs. Tracy Tate on a later trip.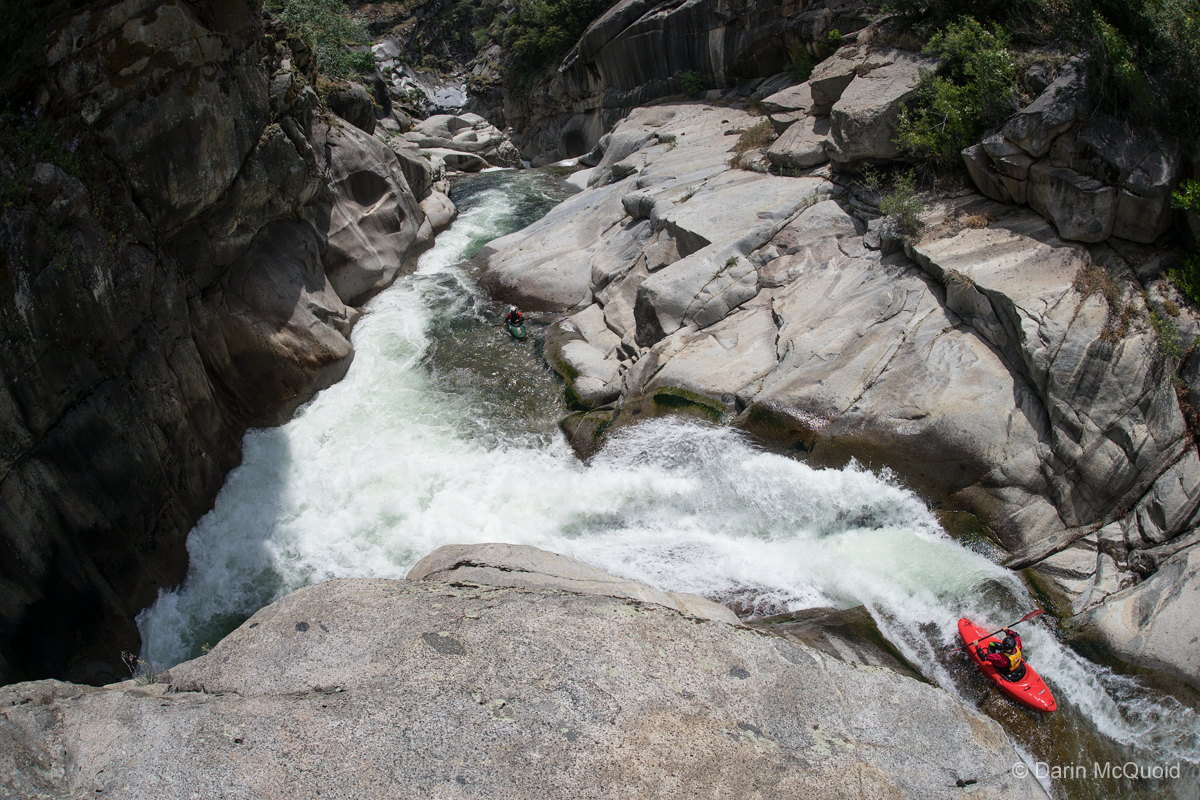 Jared Johnson heads into the second part of the crux rapid, exiting Rusty's Rampage.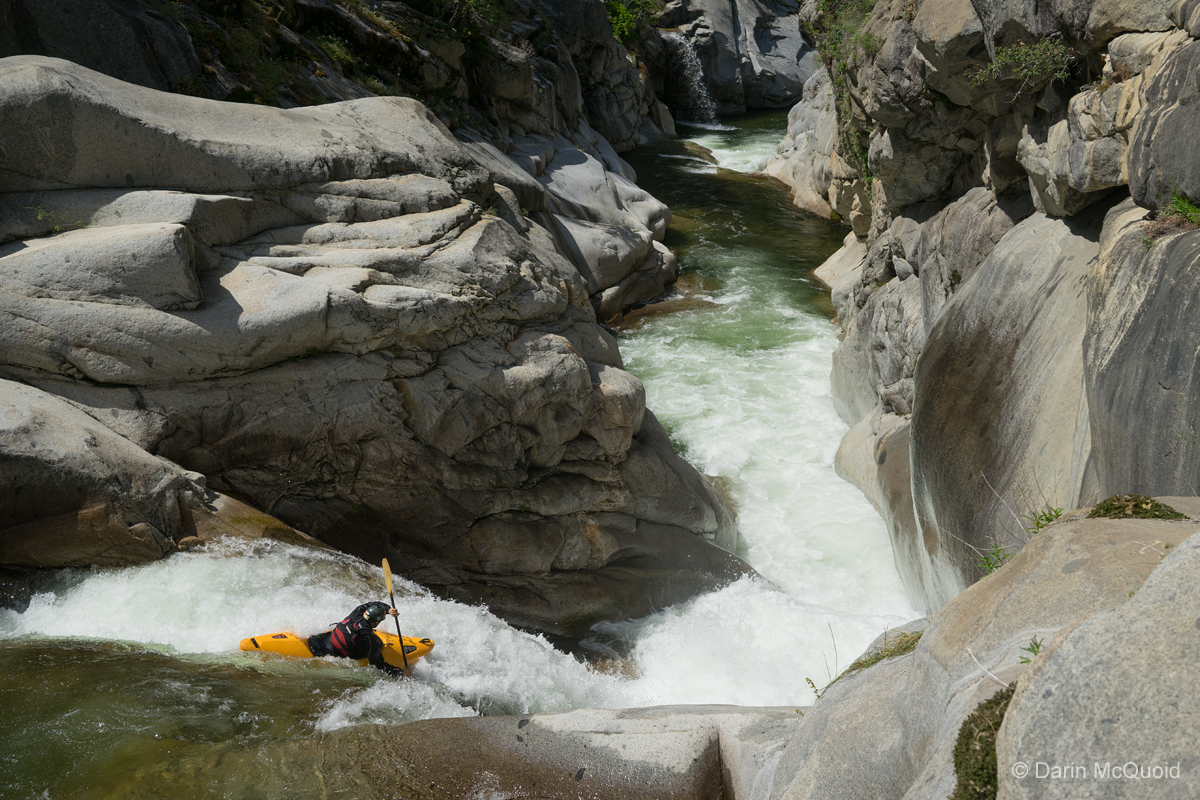 Jordy Searle in the same gutter.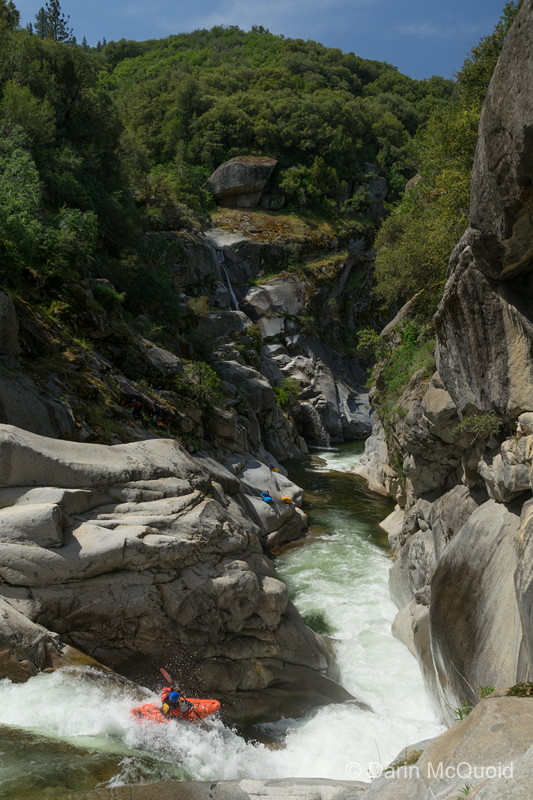 Tom Janney exits through what can be a nasty hole as flows increase.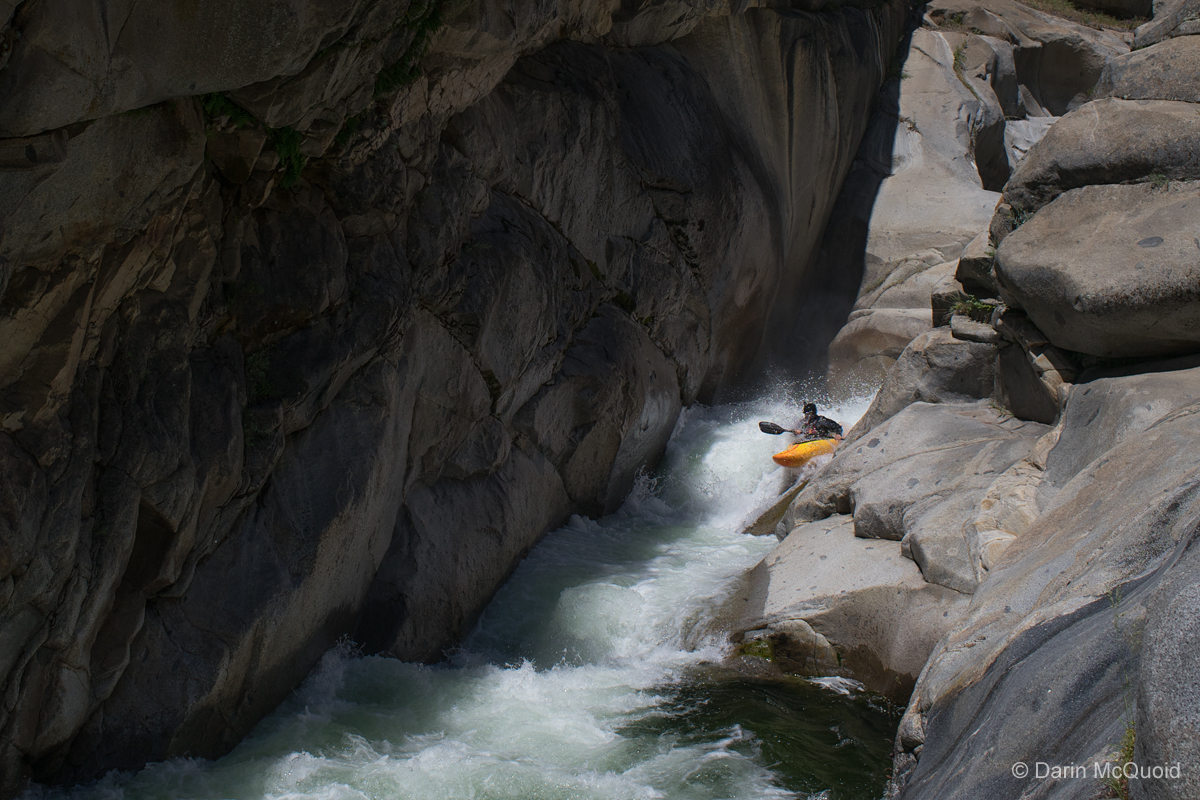 There is a nice pool just downstream of Rusty's Rampage. It's good to know that it's shallow under the side waterfall here. The next blind rapid can be seen and wouldn't be a nice swim.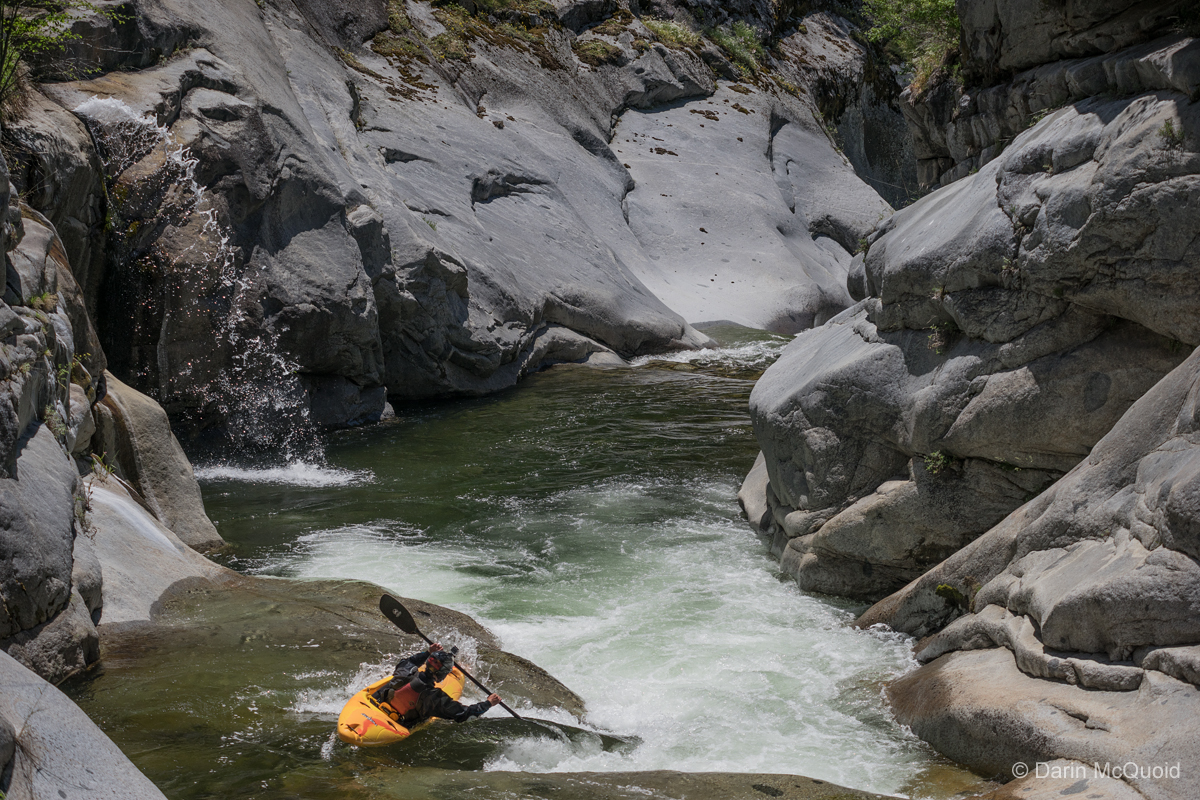 Tom Janney just two rapids downstream of Rusty's Rampage.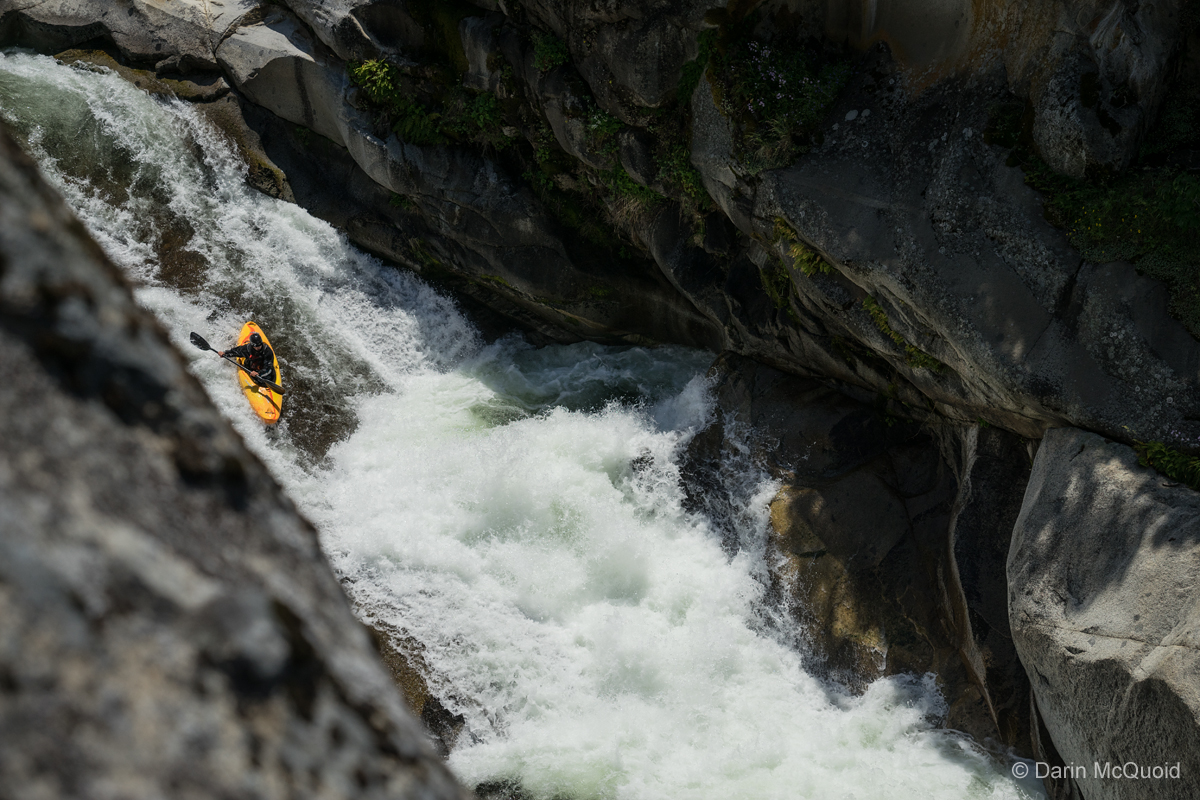 The second crux of the run. We scout high to be sure my memory is correct.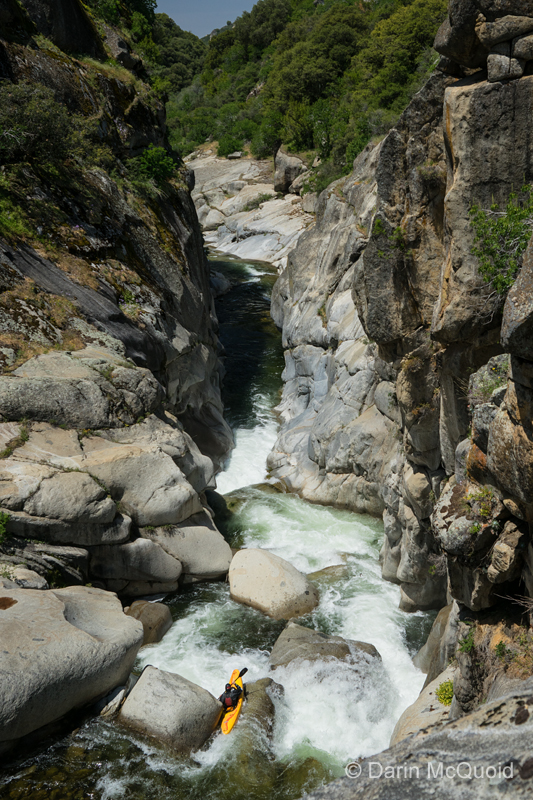 The flow problem. If this rapid has enough water to clean up, everything about Rusty's Rampage has more bite. A good climber can get out on river left above this and help the team portage, recommended at lower flows as it gets impossible to avoid the rock in the landing.
Tom Janney below the rocky landing. This day we portaged.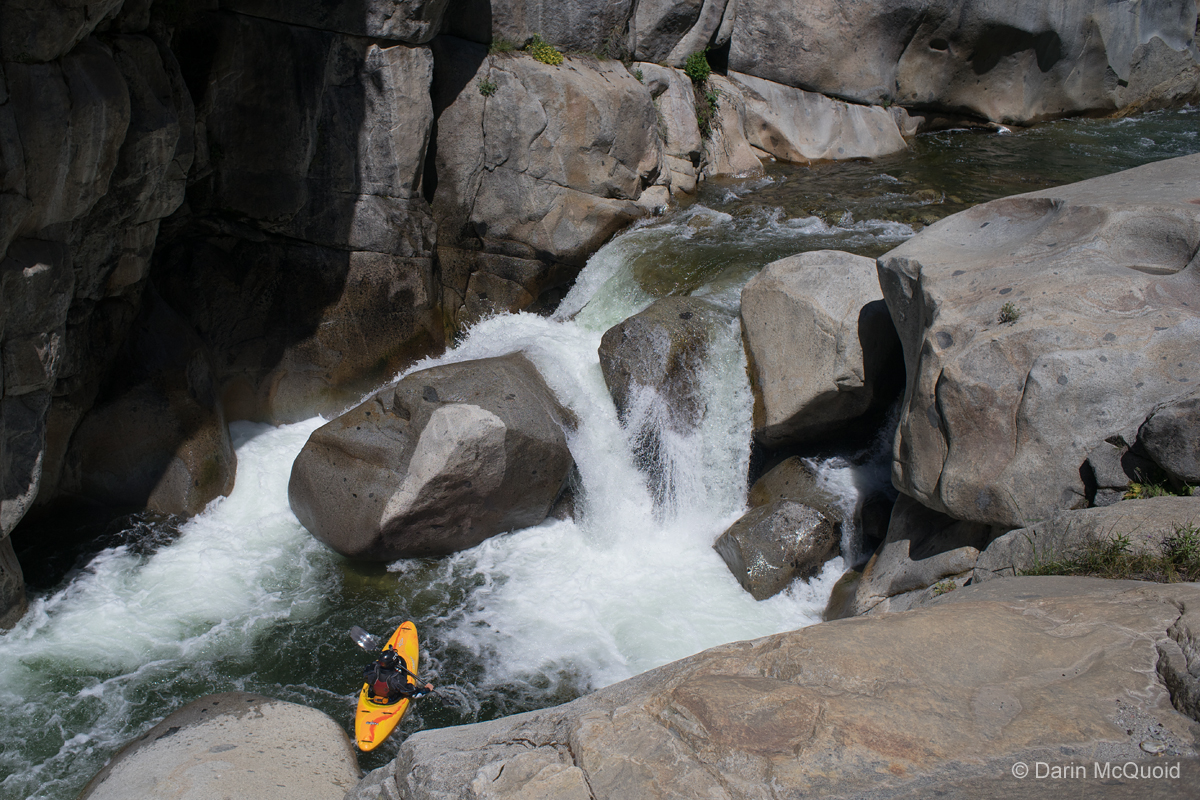 Tom Janney exits crux dos
The same from below. Here the river opens up for a few boulder gardens. We take lunch here, happy to be making good progress.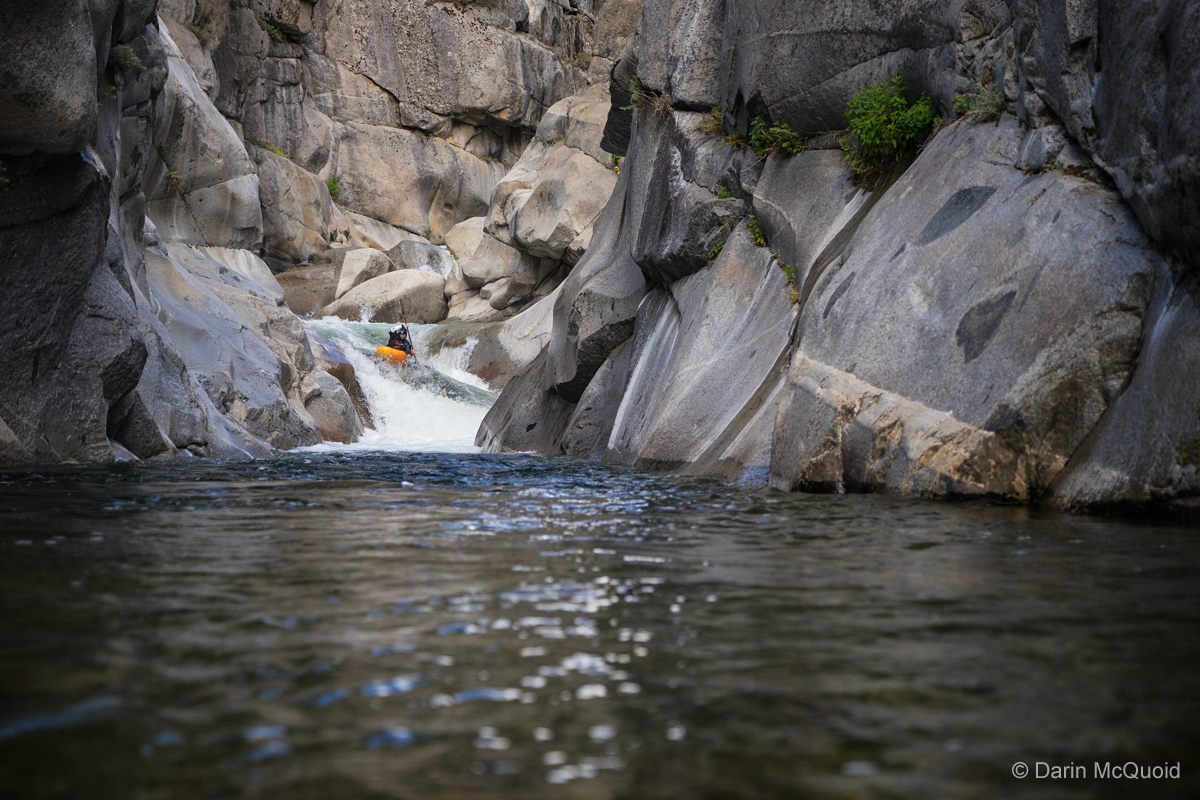 Tom Janney approaches an incredible waterfall.
Jim Janney with Castle Rocks towering behind.
A little ways downstream we make our first portage. This one is probably possible, but has a horrific looking pothole.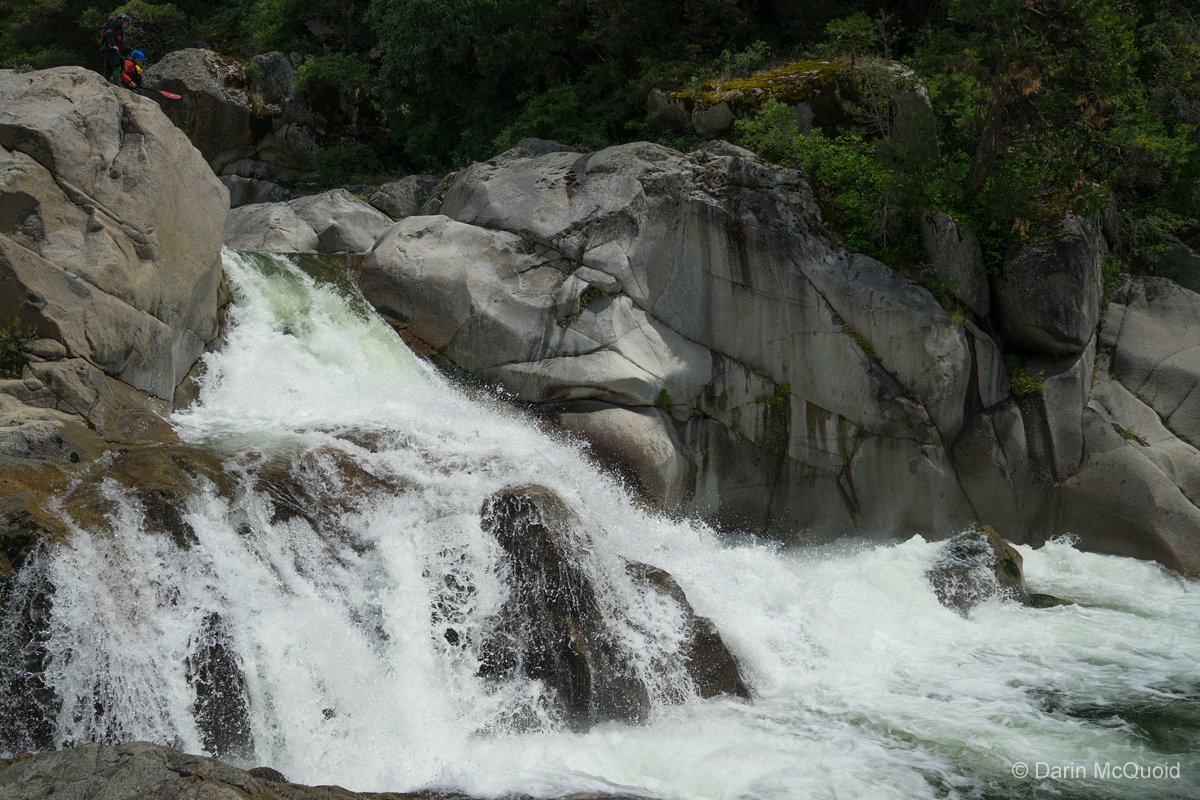 Two more portages are made in quick succession. They are possible to run but dangerous. Jim Janney runs the last commonly portaged rapid of the Panther Creek Gorge.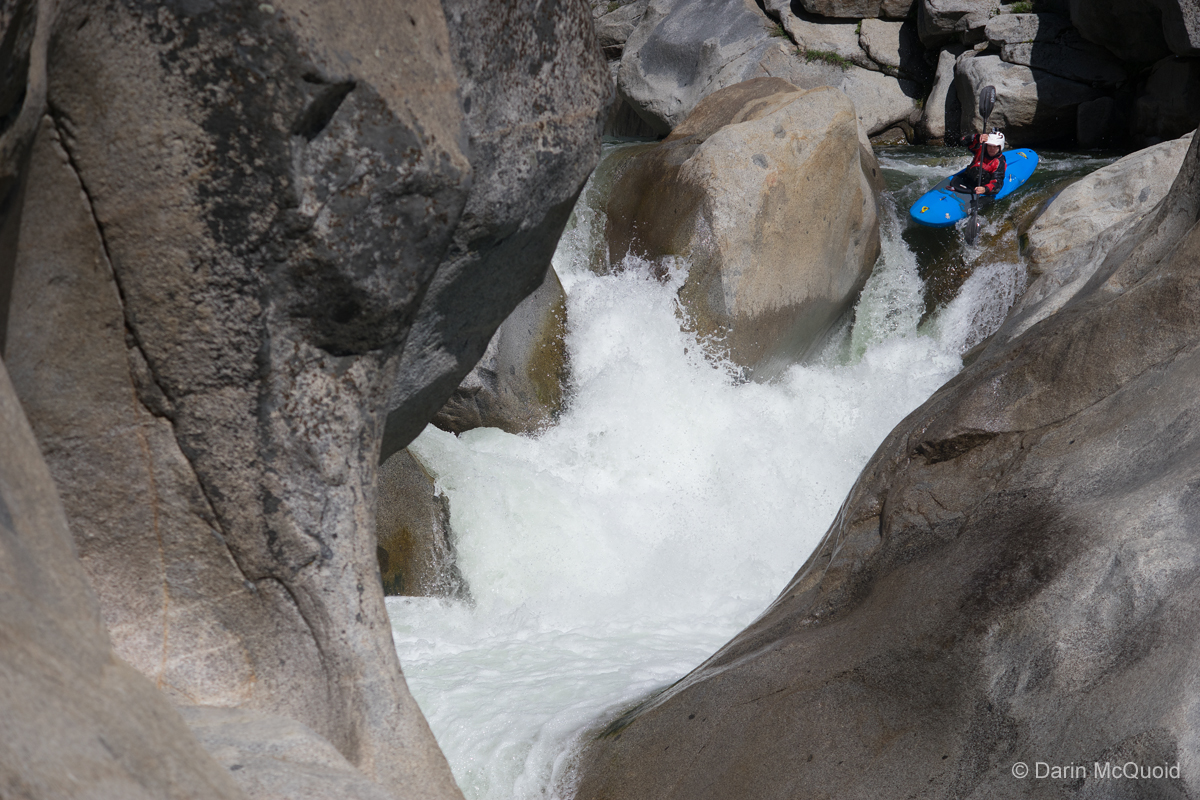 Now there is a fisherman's trail up to the trailhead. It's only one in the afternoon so we continue downstream through the Moro Rock section. In the 400-500cfs range this section is a true classic.
Kaweah in Three River Gauge.
This season we return for four more runs, starting as late as nine and paddling through Hospital Rock. Flows make all the difference. It's considerably more spicy when at all above 500. I typically portage three times, once walking two rapids. Everything is theoretically runable. Even not knowing the run it would be possible to do the run in one day, but you'd want to be at the trailhead at five in the morning. If you plan on taking out at the trailhead, be sure to walk upstream to Moro Creek and follow the fisherman's trail (left of the creek) down to the Kaweah to make sure you take out at the right location.
Take Out: Take Highway 198 East into Sequoia National Park. Continue up 198 the "General's Highway" to Hospital Rock and either leave a car here, or for a shorter run, take a right, following signs past Buckeye Flat for the Middle Fork Trailhead. Park at the end of the dirt road.
Put-in: Hike ~3 miles up the trail to Panther Creek.
The Janney's great video of Panther Creek Gorge on the Kaweah.

Panther Creek put-in. (The Green marker)