The Sony NEX-5N was a big sleeper coming from Sony this year, they were much more excited about hyping the A77 and NEX-7. For this review to make any sense, please read my
NEX-5
review first. The NEX-5N is nearly identical to the NEX-5. It's the same body with a few minor trim updates. What's inside is totally different. The sensor jumps from 14mp to 16. Either is large enough to suit my needs. Frame rate jumps to a blazing 10fps. The big change was that this time, Sony did video right. 1080HD in 60p; very nice and it's what everyone else should be putting in their hybrid cameras. Subtle changes to the flash connection on top allow the NEX-5 to connect to a upcoming OLED viewfinder. The rear LCD is now a touch screen. Reviewing my gripes about the NEX-5 it would sound like Sony was listening to my needs:
Cons:
Physical controls -
addition of the touch screen
No EVF -
OLED add-on EVF
No controls while shooting video
- full manual control while shooting video
No mirror -
faster auto focus and EVF negate to some extent
Let's tackle the bad news first. Apparently someone at Sony marketing decided the NEX-5N needed a touch screen, so the engineers put one in. A good one too, it responds to electrical current from touch instead of pressure. Too bad they didn't bother talking to any photographers about how the touch screen would benefit the camera. It doesn't. The touch screen is pointless. The only things you can access via the touch screen while shooting are the same exact controls you can push buttons for on the back. Two methods to control the same limited options without going into the menu. Shame on you Sony, the year old Panasonic GH-2 touch screen set the industry standard for real world usefulness and you have fallen far, far below it.
I'm excited but waiting for the
OLED EVF
. It's rumored to be very good, not quite as good as a true full frame 100% optical viewfinder, but that's no surprise. The only surprise is the cost. At $350 it's half the cost of the camera. At that price we can only hope that Sony will stick with it for their future NEX cameras too.
Full manual controls while shooting video. Perfect, love it, should have been on the NEX-5 and I'm happy to see it here.
Improved auto focus speed. In my limited use it seems to be about as fast or faster than the GH-2, and a lot smoother while shooting video. The update to 10fps is amazing. That's something you don't see from Canikon unless you drop over $5,000. When I went from a point and shoot to the Nikon D50 I was amazed at the speed. Same when I upgraded to the D200, and once again when I updated to the D700 with the battery grip. Amazingly I have that feeling again, even though the NEX-5N is $2,100 cheaper than the D700. With the camera set to high speed mode it's hard not to shoot bursts of three shots. Astounding, but the buffer is small so the burst won't last too long, but it's good enough for kayaking.
For Nikon users an easy way to get an idea of its size, the NEX-5 with the 18-55mm kit lens next to the Nikon D700 and Sigma 24-60mm f/2.8
Above it looks quite a bit smaller, but viewed from below vs the D700 and battery grip with 70-300VR attached the difference is immense. The tiny body hides behind the small 18-55mm lens.
Pros:
dSLR image quality
10fps
Small & light
Easy to adapt any SLR lens to
Rear LCD quality
Cons:
Touchscreen only good for setting AF point
Could use more external controls
Expensive EVF
Slow turn on time of ~2 seconds
Small buffer, only 7 shots in raw
Center only AF while shooting video
Terrible tripod mount, not enough friction
Strange CA issues with legacy lenses
Bang for the buck, the Sony NEX-5N is simply amazing. I can't say it's what I'd want to shoot real work due to lack of external controls, but it seems to be near perfect for expedition kayaking. Light & small with decent image quality and a fast fps, if only for half a second. All that said I have moved on from it, tired of the how long it takes to turn on, small buffer, and slow controls. The NEX-7 solves all those problems but I do miss the NEX-5N sensor.
The Sony NEX-5N image qaulity can be quite good. Yes DSLR quality in the right settings. Unfortunately the right settings are rarely with any of the current, very lacking lens options in the Sony E mount. All are slow and soft in the corners, or faster and non-existant in the corners. Yet for true image quality it's ahead of the adequate
NEX-5
which was slightly ahead of the
Nikon D200
. A lot of people out there are saying it's better than the Nikon D7000 which may use the same sensor. Some also like to say that the D7000 is better at high ISO than the D3/D700. What really makes the D700/D3 sensor stand out is not just how little noise it has, but how it renders the noise, in a very film like way thats pleasing to the eye way. Anyways in a quick and dirty test I shot my D700 against the NEX-5N, at the same settings. I pushed both images up 1.0 exposure in photoshop CS5 to really bring out the noise. No noise reduction applied to either (outside of standard noise reduction from the camera).
On the video side of things the NEX-5N is very competent but rather confusing in the menu regarding how AF works. One of the most attractive features to the Panasonic GH-2 is the ability to be auto-focused on one point, then touch screen to another point and it will change focus. Pretty handy for focus pulls, but unfortunately the GH2 does it a little too fast to be pleasing to the eye. Initially I was under the impression this wasn't possible with the NEX-5N. Then I found it's possible if you have the camera in AF-C mode and press the shutter release half way, but the lens will do a full focus hunt and look terrible.
Click to see in video.
Thankfully there is a work around to alleviate this issue.
After more use I found that it is possible to get smooth AF performance while racking the focus, but not straight forward. To pull focus by touch all modes in the menu need to be set a certain way:
Menu: Camera
AF/MF Select AF
Autofocus Area Flexible Spot
Autofocus Mode: AF-C
Object Tracking ON


For some reason turning on Object Tracking changes everything. Now while recording video a simple touch on the screen will change AF points and it will make a nice smooth transition of focus. No need for a half shutter press. Both videos shot with the Sony E 55-210.
Click here to see the quick clip.
A few kayaking shots to test out still capability; Will Pruett on Zero to Hero of the South Fork San Joaquin.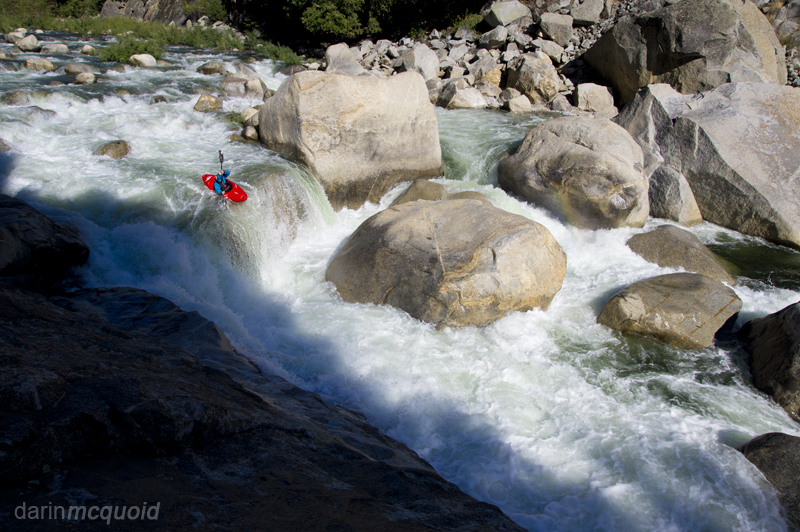 Sony NEX-5N, Tamron 17-50 2.8 @ 1/1000 f/8 ISO 200
100% crop of the above.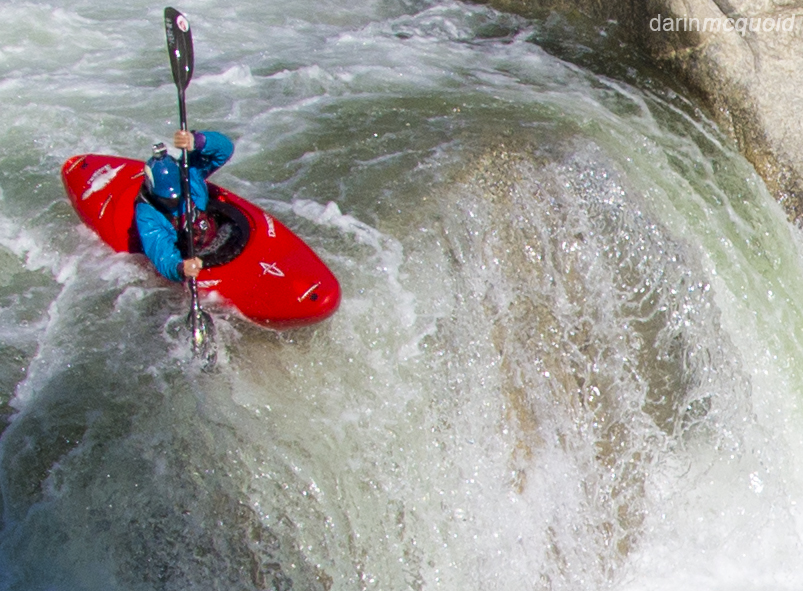 How about some tough lighting?
Sony NEX-5N, Tamron 17-50 f/2.8 @ 1/800 f/2.8 ISO 800
100% crop no noise reduction or sharpening, no significant noise issues.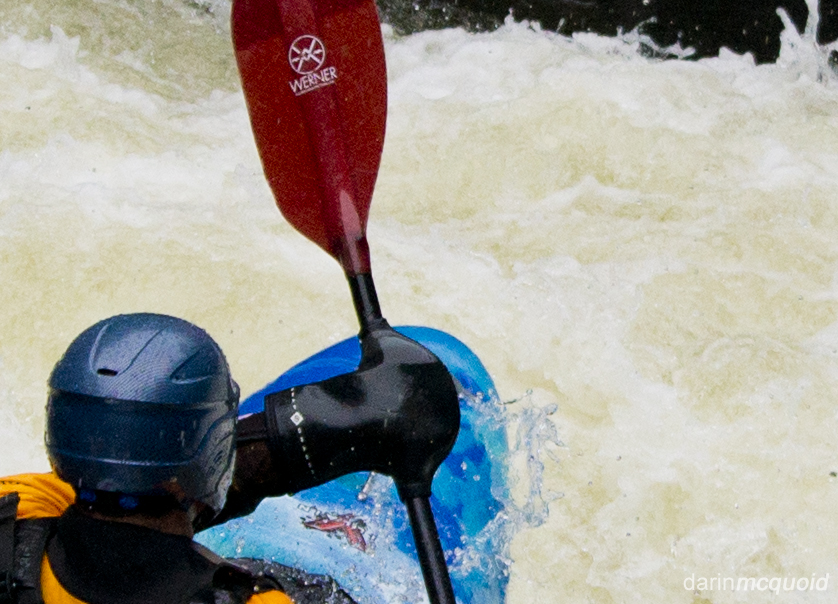 Sony NEX-5N, Tamron 17-50 f/2.8 @ 1/800 f/2.8 ISO 800
There has been talk about the Nikon D7000 having similar high ISO performance to the D700/D3, and the Sony NEX-5N being similar to the D7000 as they share the same Sony sensor. On top of that it's interesting to see how different cameras chose to deal with similar scenes. These two images were taken seconds apart, with the Nikkor 24-70 f/2.8 at 50mm f/4 on the 5N and at 70mm f/4 on the D700. Both images converted through ACR with no adjustments.

Sony NEX-5N, Nikkor 24-70mm @ 1/15 f/4 ISO 3200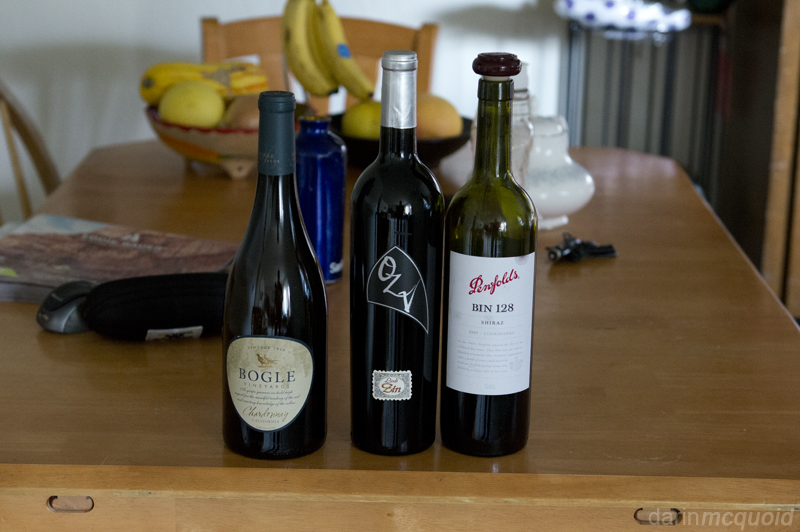 Nikon D700, Nikkor 24-70mm @ 1/10 f/4 ISO 3200
A quick 100% crop from each.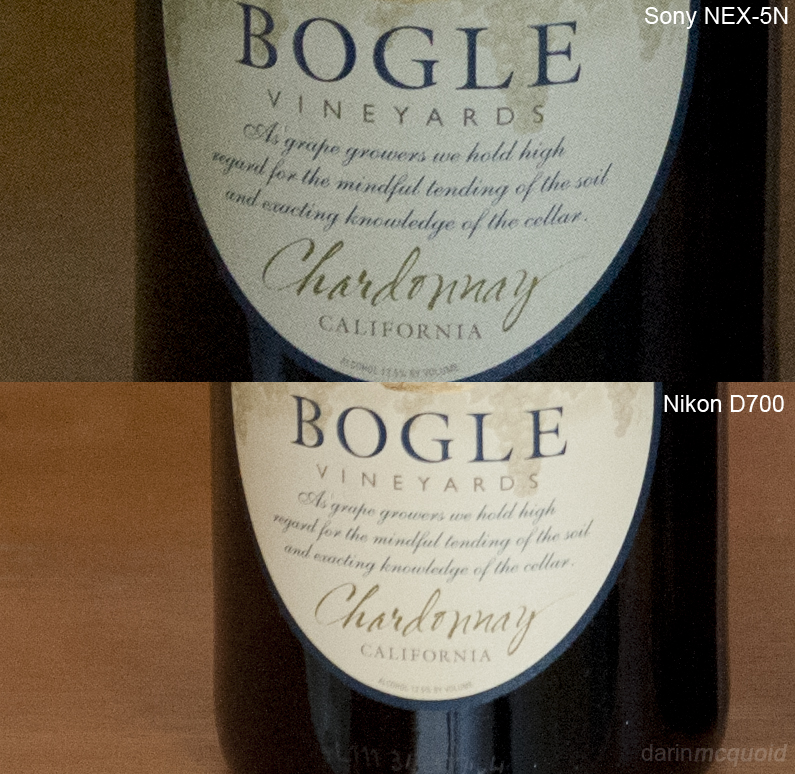 Obviously the exposure choices were slightly different. To my taste, the D700 noise is still considerably better and less intrusive than the NEX-5N, but it's also an FX sensor that costs $2,000 more and is 4mp less.
Once again the size is something else too. NEX-5N and D700.